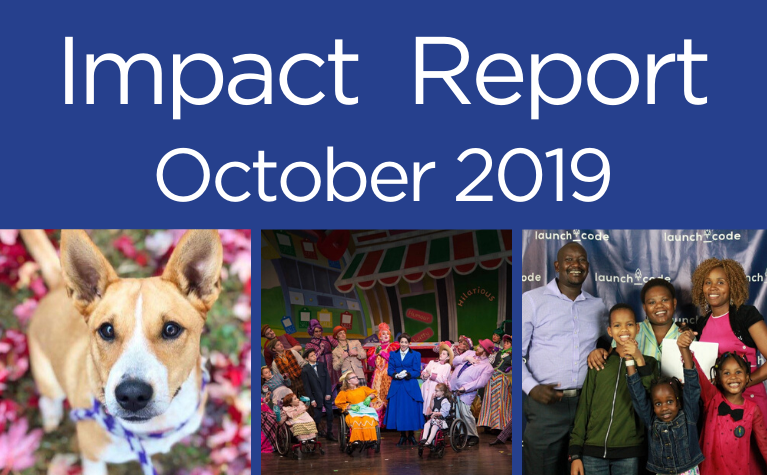 November 8, 2019
October 2019 Impact Report
Good evening,
In October, members of our St. Louis Givable community demonstrated their selflessness and gave a total of $7,144.25! When we give a little each day as a collective, we can inspire change in our city.

Also in October, we had the privilege of welcoming KIPP St. Louis High Schooland Wydown Middle School to our giving community! We are so excited to have the school join us in giving to local nonprofits and to help instill the value of philanthropy in the students.

Check out our recent feature on Fox 2 to learn more about how Givable and local schools are teaming up to ignite the spirit of giving in St. Louis here.
It is our mission to create an engaged and informed community of lifelong givers. We empower individuals, families and businesses to weave a giving rhythm into their lifestyle that positively impacts local nonprofits. We want to connect with you!

Here are the places you can find us this November:
A Few Nonprofits We Supported Last Month
Join Us At Our Next Nonprofit Connection
Don't forget to RSVP to Nonprofit Connection! Join us on Tuesday, November 19th from 4-7pm at Covo STL. We will be pairing impactful networking and learning opportunities along with delicious food and beverages for the people who fuel our region's nonprofits. If you sign-up for Givable at the event, you'll receive a free drink!

Agenda
Networking w/ food and drinks, 4-7pm
Vendor booths, 4-6:30pm
1on1 Legal Q&A with Mike LaBozzetta from Faro Law STL, 4:30-6:30pm
Workshop on Nonprofit Fundraising from Rachel D'Souza Siebert with Gladiator Consulting, 5-5:45pm (attendance of the workshop is optional)
Parking
Metered parking within a block of Covo is available along Pine, 4th, Chestnut, and Broadway.
Discounted garage parking is available directly across from Covo Coworking on 4th Street in the Mansion House Garage. Hold onto your parking ticket stub and provide to Givable when you arrive to receive discounted rates.
Upcoming Volunteer Opportunities
HEALTH: St. Louis Children's Hospital volunteers create a difference in the lives of our patients, families, visitors and staff every day. During the holiday season, donated time is even more precious. If you are interested in volunteering your time, please apply here.
SENIORS: Lutheran Senior Services would not be able to live out their mission of "Older Adults Living Life to the Fullest" without their volunteers. In this season of giving, you can make a meaningful difference in the lives of seniors by signing up to volunteer here.
HUMAN SERVICES: Hunger can affect anyone, anyone can affect hunger. Team up with the St. Louis Area Foodbank and fight hunger this Thanksgiving! Whether you donate food, volunteer, or advocate you are making a difference in the lives of St. Louis families. Learn more here.
ANIMALS: Many people are forced to give up their pets because they can't afford to buy food. Bi-State Pet Food depends heavily on compassionate volunteers, who love animals and want to see them stay with their families. Help a family feed their pet this holiday season and explore volunteer opportunities here.
EDUCATION: Project Backpack offers love and support to thousands of displaced children delivering customized backpacks loaded with comfort items and necessities during crisis situations. If you're passionate about helping kids, Project Backpack needs you during the holiday season. Discover how you can help here.
​​Know of other volunteer opportunities or events in the St. Louis community? Email us at stl@givable.org!
Start Giving Today or Share with
Your Friends and Family!

Stay in the know.
Sign up for alerts to be notified as Givable grows into cities near you.