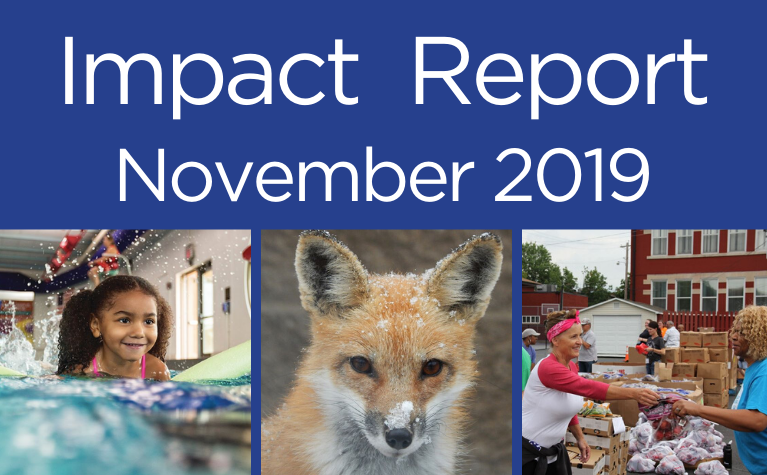 December 13, 2019
November 2019 Impact Report
Good evening,
The difference we make in our community is exponentially greater when we collectively give as a team. In November, our St. Louis Givable community teamed up to raise a total of $6,752 or local nonprofit organizations! Your generosity is crucial to creating a stronger, happier, and healthier St. Louis. We truly appreciate your support for our city and community.
Start Giving Today
You have the power to do unlimited good. Each city's people, places, and environment are unique and special to every one of us. Givable donations are spent to help others through local nonprofits and enrich the community we are proud to be a part of. We empower individuals, families, schools, and businesses to weave a giving rhythm into their lifestyle that positively impacts St. Louis nonprofits.

We want to connect with you! Don't just witness the growing happiness, healthiness, and strength of your community. Be part of the reason for it and sign-up today.
The Gift That Keeps Giving
This holiday season, you can give the gift of a Givable Membership; email stl@givable.org for details! Everyone who signs up to join our community or gives the gift of Givable this December will receive this complimentary stocking cap. 🛍
A Few Nonprofits We Supported Last Month
The Gateway Region YMCA's mission to nurture the potential of every child and teen, improve health and well-being, and support and serve their neighbors.
The Wildlife Rescue Center's dedication to the rehabilitation of wild animals impacted by the encroachment of humans on their habitat.
St. Louis Area Foodbank's efforts to build stronger communities by empowering people with food and hope.
Join Us At Our First 'A Givable Happy Hour'
It's time to celebrate our Givable users — join us at Taco Buddha for our first 'A Givable Happy Hour.' Taco Buddha will donate a portion of sales during this happy hour to the International Institute.

We will also have complimentary snacks from Taco Buddha for current Givable members and new members who sign up at the happy hour. Join us to mingle with our giving community and celebrate all that our area nonprofits do for the St. Louis region!
Upcoming Volunteer Opportunities
HEALTH: The National Kidney Foundation STL Chapter knows it takes a community of passionate families, patients, professionals, and friends to keep their mission moving forward. They rely on volunteer involvement for planning walks, community advocacy, and fundraising. Find a volunteer opportunity here.
ARTS & CULTURE: The Center of Creative Arts (COCA) offers a variety of volunteer opportunities. Currently, their greatest need is for volunteer ushers. All ushers receive a reserved seat to watch the performance. Complete the volunteer application here.
HUMAN SERVICES: CASA volunteers are appointed by judges to advocate for children's best interests. They stay with each case until the child is in a safe, permanent home, and the case is closed by the court. You can help change a child's story by applying today.
ANIMALS: Are you hoping to join a dedicated team of cat lovers and make life-long friends, both feline and human alike? If you said yes, Tenth Life Cat Rescue is the perfect volunteer opportunity for you! Find out how to sign up and get involved here.
EDUCATION: The L.I.F.E. Foundation is as strong as the community that holds it up. There are many ways to join and support their mission to build literacy. Contact them here to find out more about volunteer opportunities.
Know of other volunteer opportunities or events in the St. Louis community? Email us at stl@givable.org!
Start Giving Today or Share with
Your Friends and Family!

Stay in the know.
Sign up for alerts to be notified as Givable grows into cities near you.