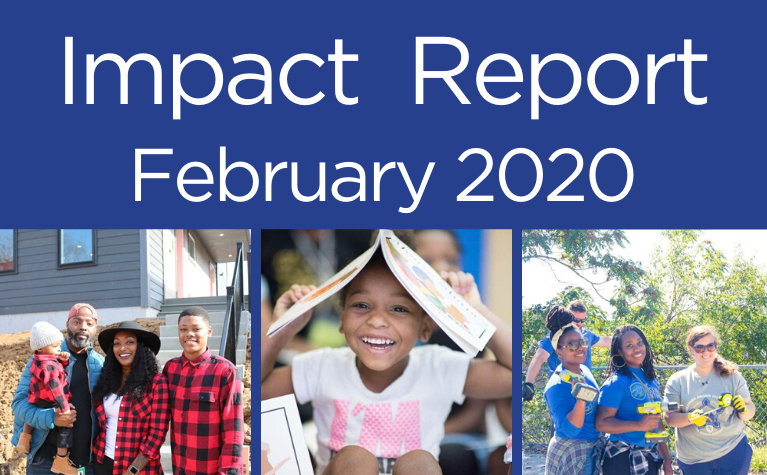 March 11, 2020
February 2020 Impact Report
Good evening,
When we give as a collective, the impact we can make on St. Louis is exponentially greater. In February, our Givable community teamed up to raise a total of $4,050.50 for local nonprofit organizations! Your generosity is crucial to creating a stronger, happier, and healthier St. Louis, and we truly appreciate your support for our city and community.
Your Input Matters
Givable's goal is to empower individuals, families, and businesses to weave a giving rhythm into their lifestyle that positively impacts local nonprofits. In order to do this, we need your input.

We're currently in the process of updating the technology that powers Givable to make giving even easier for you! In order to help us make an even bigger impact on our St. Louis community, please take a brief survey found here to let us know what features you want to see Givable offer.
Save The Date For Nonprofit Connection
Join us for our next Nonprofit Connection on May 19th from 4-7 PM at Schlafly Bottleworks! This event provides impactful networking and learning opportunities along with delicious food and beverages for the people who fuel our region's nonprofits. A complimentary alcoholic beverage will be made available to attendees who are also Givable members.

Additionally, Vendors who serve nonprofits will be in attendance. Contact us at stl@givable.org if you wish to be a vendor. Space is limited to 2 vendors, and this event is open to nonprofit professionals and volunteers. We can't wait to see everyone there!
Help Us Connect With Your Charity
Each city's people, places and environment are unique and special to every one of us. Givable donations are spent to help others through local nonprofits and enrich the community we are proud to be a part of.

Have an idea for an organization you would like to see featured on Givable? Email us at stl@givable.org with your thoughts.
Upcoming Volunteer Opportunities
HEALTH: The Dream Factory is an organization that depends almost entirely on its network of volunteers. Opportunities to volunteer include fundraising, special events, public relations, and more! You can apply to volunteer here.
ANIMALS: Needy Paws Rescue is in need of volunteers for fundraising, transporting, adoption events, marketing, and so much more. If you love dogs and can spare a few hours to help out, complete the volunteer application.
HUMAN SERVICES: Healing Action is continually on the lookout for compassionate, caring, and motivated individuals to fill a variety of positions to ensure the success of the agency and the members they serve. You can apply to volunteer here.
EMPLOYMENT: Fresh Start STL is dedicated to helping individuals and pets live a better life. There are many opportunities to help like handing out treats at the dog park, mentoring, and fundraising. Apply today!
CHILDREN & YOUTH: Urban Sprouts is looking for volunteers with a passion for kids. Volunteers share in supporting children's cognitive, socio-emotional and academic development, and Urban Sprouts is looking for caring individuals to help them carry out their mission. Sign-up here.
Know of other volunteer opportunities or events in the St. Louis community? Email us at stl@givable.org!
Start Giving Today or Share with
Your Friends and Family!

Stay in the know.
Sign up for alerts to be notified as Givable grows into cities near you.