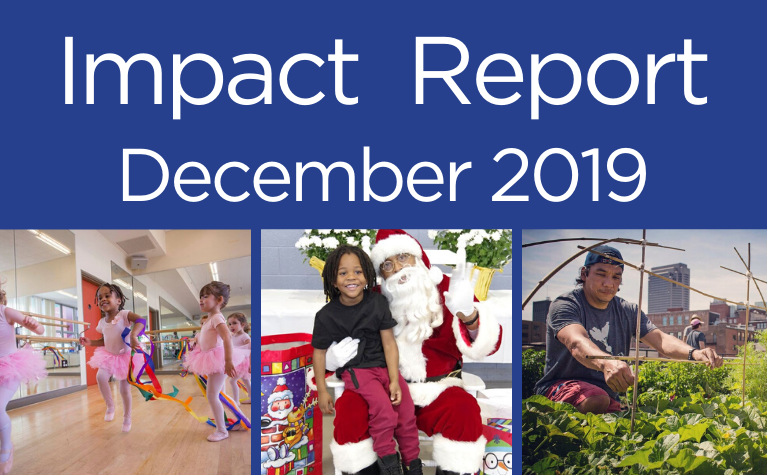 January 10, 2020
December 2019 Impact Report
Happy New Year!
We would like to thank our Givable community for a wonderful 2019, and we are so excited to see what 2020 has in store for our community.

We closed out 2019 with a bang and raised a total of $5,498.50 for local nonprofit organizations in December. We are so proud of our Givable community! Without your generosity, we would not be able to create a lasting impact on our city through local nonprofits.

We truly appreciate your support in creating a stronger, happier, and healthier St. Louis.
Community Outreach
During the holidays, Givable was at multiple holiday markets and reached hundreds of new people!

Each city's people, places, and environment are unique and special to every one of us. Your donations through Givable go to local nonprofits working to enrich the community we are proud to be a part of. We empower individuals, families, schools, and businesses to weave a giving rhythm into their lifestyle and positively impact St. Louis nonprofits.

We want to connect with you! Don't just witness the growing happiness, healthiness, and strength of your community. Be part of the reason for it and sign-up today.
The Gift That Keeps Giving
Over the holiday season, some chose to give the gift of a Givable Membership, and we sold over 50 Givable Gift Cards this holiday season. Since they were such a hit, Givable Gift Cards for any occasion will be available soon, stay tuned!
A Few Nonprofits We Supported Last Month
COCA's mission to use the power of the arts and education to build a vibrant St. Louis that is creative, connected, and inclusive.
Kingdom House's efforts to help the under-resourced improve their well-being and change their futures.
Urban Harvest STL's mission to provide equitable access to fresh, healthy food regardless of socioeconomic status, race or location.
Our First 'A Givable Happy Hour' Was A Success
We had a great time celebrating our users at Taco Buddha for our first 'A Givable Happy Hour.' Taco Buddha donated a portion of sales during this happy hour to the International Institute.
Join Us For Our February 11th Happy Hour
We look forward to mingling with our giving community at our next happy hour on Tuesday, February 11th, 5:30-7 pm at The Dubliner in Maplewood. They will be donating a portion of the evening's sales to Mathews-Dickey Boys' and Girls' Club to support their mission of helping young people reach their full potential through academic, athletic, and career readiness programming.

We will have snacks for Givable members, and people who sign up for Givable at the event will receive a complimentary drink. Join us to celebrate all that our area nonprofits do for the St. Louis region!

Reserve your spot here.
Attend Our Next Nonprofit Connection
Nonprofit Connection provides a learning and networking opportunity for the people powering our region's nonprofits.

Join us on Tuesday, February 18th, 4-7 pm at Schlafly Bottleworks for impactful networking and learning opportunities along with delicious food and beverages for the people who fuel our region's nonprofits. Register here.

A complimentary alcoholic beverage will be made available to attendees who are also Givable members. You can learn more about how to learn about and donate to dozens of local charities a month here.

Vendors who serve nonprofits will also be in attendance. Contact us at stl@givable.org, if you wish to be a vendor, space is limited to 3 vendors. This event is open to nonprofit professionals and volunteers.

Parking:
Schlafly Bottleworks has a large parking lot, so there shouldn't be any issues for people in search of parking.
Agenda:
Networking w/ food and drinks, 4-7 pm
Vendor booths, 4-6:30 pm
1on1 Legal Q&A with Mike LaBozzetta from Faro Law StL, 4:30-6:30 pm
Workshop on "DIY Digital Brand Storytelling Basics for Nonprofits" from Ron Watermon with Story Smart, 5-5:45 pm (attendance of the workshop is optional)
Upcoming Volunteer Opportunities
HEALTH: The Down Syndrome Association offers several opportunities to volunteer throughout the year, including special event support, as well as program help. Browse the list of opportunities they have coming up. Follow the link for that event and choose an open slot that works for you here.
ENVIRONMENT: If you have an interest in making the city more beautiful than it already is, Brightside St. Louis needs your help. There are a variety of ways to volunteer—from alley cleanups to Downtown plantings. Sign-up today!
HUMAN SERVICES: You can serve someone who has served our country by volunteering your time and/or knowledge to Mission: H.O.M.E.S. Learn more about how you can give hope and new light to veterans here.
EMPLOYMENT: Bridge Bread is a volunteer-driven organization, and they welcome new volunteers. Opportunities for service are in their retail Bake Shop on Cherokee near Jefferson. Sign-up here.
CHILDREN & YOUTH: Volunteers are vital to the operation of Boys Hope Girls Hope St. Louis. Opportunities include but are not limited to: tutoring and mentoring scholar meal preparation office clerical assistance, and much more. Apply here.
Know of other volunteer opportunities or events in the St. Louis community? Email us at stl@givable.org!
Start Giving Today or Share with
Your Friends and Family!

Stay in the know.
Sign up for alerts to be notified as Givable grows into cities near you.