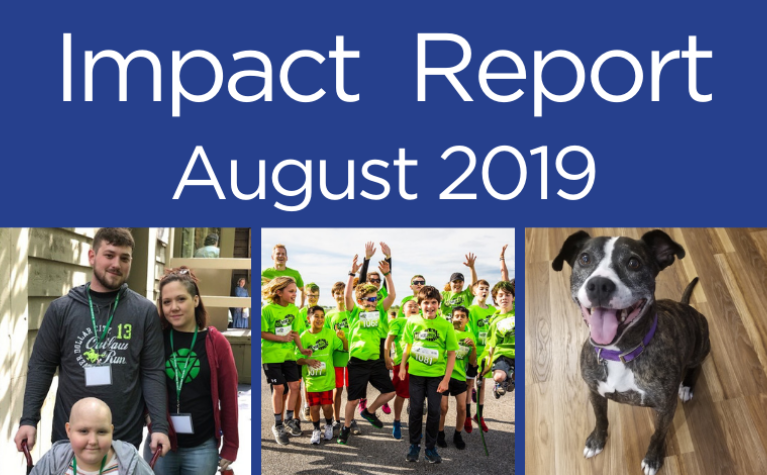 September 6, 2019
August 2019 Impact Report
In August, members of the St. Louis community continued their generosity and gave a total of $4,791 to local nonprofits! When the community comes together, that is when real change can occur.

As we look ahead, we are thrilled to announce that Givable is being featured in the 2019-2020 Small Business Monthly Business Owners' Guide. This annual guide features people and business other small business owners and employees need to know in the St. Louis area. View our feature now!
A Few Nonprofits We Supported This Month
Peregrine Society's efforts to improve the quality of life of cancer patients living in STL by providing services and supplies to cancer patients.
Let Me Run's mission to coach and inspire boys to grow emotionally, amplify their self-esteem, empower themselves and others, and live an active lifestyle.
Stray Rescue St. Louis' dedication to restoring stray animals to health and finding them loving adoptive homes.
Nonprofit Connection Recap
This August, we hosted Nonprofit Connection — an event charged with helping change makers create a better St. Louis! Thank you to everyone who attended, Covo STL for hosting, Trust for the delicious cocktails, Freddy D'Angelo for complimentary headshots and Lindsay Matush with Vario Consulting for leading the breakout session.
Shoutout to our service provider booths: TriNet, Specialty Mailing and NBS.

Explore our photos from Nonprofit Connection, and don't forget to save the date for our next event: November 19th, 4-6PM at Covo.
Upcoming Volunteer Opportunities
​​Know of other volunteer opportunities or events in the St. Louis community? Email us at stl@givable.org!
Help Us Tell the Givable Story
Start Giving Today or Share with Your Friends and Family!


Stay in the know.
Sign up for alerts to be notified as Givable grows into cities near you.